Course details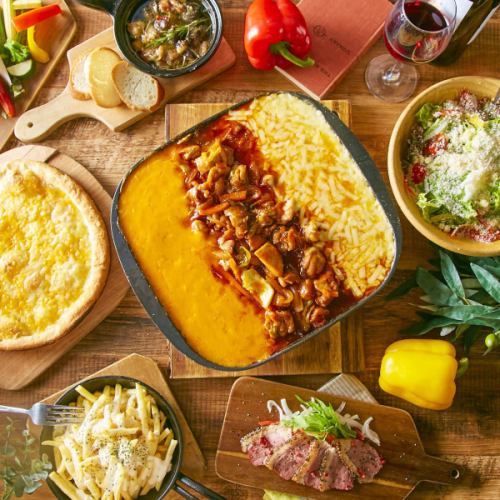 January ~ "Women's Association Course" ★ You can choose the main cheese dishes you want ♪ All-you-can-drink all-you-can-eat 【3 items 2480 yen】
By using a coupon2480 yen
7items

2persons

-

All-you-can-drink available

All course all you can drink "B plan" ♪
Loose 3 hours with unlimited drinks! The main choice is all-you-can-eat cheese tacalbi or cheese fondue! Premium girls' party with healthy cuisine! At banquet · drinking party ... ◎
Course menu
【1 item】 Today's small bowl
【2 items】 Salmon carpaccio
【3 items】 Caesar salad plentiful cheese
【4 items】 Cajun potato fly
【5 items】 All you can eat
◆ Cheese Taccarbie
◆ Cheese Fondue
【6 items】 December
◆ Cheese Taccarb ⇒ Pokpa
◆ Cheese fondue ⇒ daily pasta
【7 items】 bite dessert
-------------------------------------------
* Dishes exchange system
* Please understand that there may be a cancellation fee for the number of people on the day.
※The photograph is an image.
※ All you can eat is 3-hour system (LO 30 minutes ago) only for first-come first-served basis, 2-hour system (LO 30 minutes before) after 6th group.
※ Friday, Sunday and public holiday two-hour system (30 minutes before LO) and + 500 yen.
※ If there is no main designation "Cheese Taccarbie" will be.
All-you-can-drink menu
· "Free" B Plan
·【sour】
· Lemon Sour / Lime Sour / Grapefruit Sour / Orange Sour / Acerola Sour / Oolong Hi / Green Tea High / Jasmine High / Veggie Carrot & Apple / Veget Shower Celery & Lemon
·【wine】
· Almaden (red · white)
·【Soft drink】
· Pepsi · Cola / Ginger Ale / Tonic Water / Orange Juice / Grapefruit Juice / Acerola Water / Acerola Soda / Calpis Water / Calpis Soda / Oolong Tea / Green Tea / Jasmine Tea
· 【A Plan】
· [+ 500 yen] "A plan" will be added at + 500 yen to the all-you-can-eat menu "B plan" !!
· 【Barrels】
· Clear Asahi barrel / Shandyagh / Cassis beer / Muscat beer
·【Cocktail】
· Cassis soda / cassis orange / cassis grape / cassis oolong / cassis tonic / peach soda / fuzzy group / peach grape / regga punch / peach tonic / lycheesa / lychee orange / lychee grape / lychee oolong / lychee tonic
· Gin Tonic / Jim Buck / Jin Ricky / Vodka Tonic / Moscow Commander / Screwdriver
·【Highball】
· Black Nikka High Ball / Ginger High Ball / Coke High Ball / Italian High Ball
·【Sake】
Magnificent
· [Shochu]
· Tou and (potato) / Yan and (Wheat)
·【sangria】
· Vigna Alvari sangria (red · white)
·【Plum wine】
· Tenderness plum wine / rich plum wine
· 【S plan】
· [+1000 yen] "A plan" and "S plan" will be added at +1000 yen to the all-you-can-drink menu "B plan" !!
·【beer】
·Asahi Superdry
· 【Wine · High Ball】
· Jack Daniel / Black Nikka Rich High Ball / Ginger High Ball / Cola High Ball
· [Shochu]
· First bid (wheat) / gold black (potato) / Satsumasaji (potato)
·【non-alcoholic beer】
· Dry zero bottle
Reservation deadline

Until 17 o'clock on the desired shopping day
Available days for reservation

Monday - Sunday - Public holidays - Holidays
2019/01/07 update